Posted on November 26th, 2018
Three Distinguished UH Law Faculty Named Prestigious Carlsmith Ball Scholars
Three UH Law School faculty members – Professors Alison Conner, Charles Lawrence and Nicholas Mirkay – have been named Carlsmith Ball Scholars honoring and supporting forthcoming research work by each.
Conner is a China expert specializing in analysis of Chinese film that defines legal and social change in the country; Lawrence is a life-long civil rights activist who continues to evaluate social justice issues, especially in today's polarized society; and Mirkay's expertise in tax law enables him to scrutinize the impact of the latest federal tax law changes under President Trump and their long-term effects, including on state taxation.
A Law School advisory committee was involved in choosing the Scholars who will have staggered terms. Conner will have a three year term; Mirkay two; and Lawrence one.
In announcing the newly named Scholars, William S. Richardson School of Law Dean Avi Soifer said he was grateful to the Carlsmith Ball law firm "for their ongoing support of the outstanding scholarship being produced by our faculty. 
"Not only does this assist our distinguished faculty in continuing their own research, it provides profound depth to what they already bring to their classroom work and to our students," said Soifer.
"Law students are often invited to join in research work with our faculty, and in turn, receive credit on published manuscripts. It can often launch law students into important research arenas of their own." 
 Carlsmith Ball LLP Co-Chair Joanne Lo Grimes (WSRSL '94), was equally proud of the firm's partnership with the Law School, and the important work by the faculty, as well as the opportunities such research offers to students.
"We are proud to support the William S. Richardson School of Law and its faculty," she said, "and to provide opportunities for faculty to further their research and scholarship."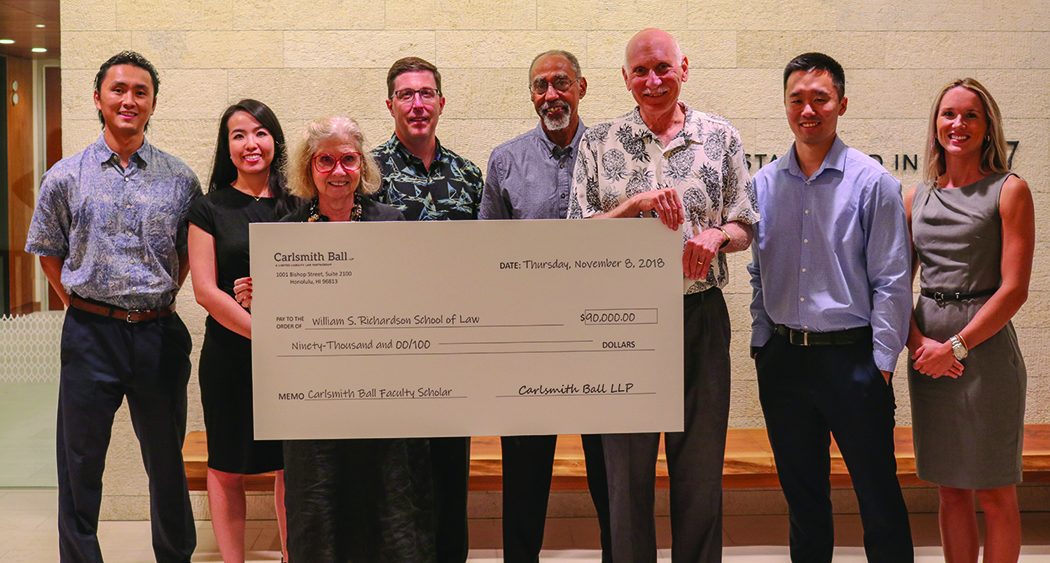 As a long-time teacher and researcher in Asia before joining the Richardson Law School faculty in 1995, Professor Alison Conner is a consummate authority on China, its legal system, and especially on how justice is practiced based on its depiction in Chinese film.
A graduate of Cornell where she earned both a Masters degree and a Doctorate in Chinese and Southeast Asian history, Prof. Conner was an early transplant to Asia in 1983 after spending five years practicing law on Wall Street. She taught in China at both Nanjing and Tsinghua universities, at the National University of Singapore, and at the University of Hong Kong, earning two Fulbright awards during her time there.
Prof. Conner's current fields of study include tracing the history of an early law school that was forced to close in Shanghai and relocate to Taiwan after the Communist Revolution of 1949; as well as a continuing look at legal reform and defects in due process in China for an ongoing series of articles. Of particular interest in her research is the use of the legal system in Taiwan to control and terrorize political opposition during a repressive period in that nation's modern history.
Prof. Conner received her JD from Harvard University and grew up on the East Coast. Over the past several years at the William S. Richardson School of Law she has spearheaded launching the LLM, AJD and SJD programs to broaden the reach of Hawai'i's only law school, opening its doors to a more international mix of students seeking advanced academic standing in the legal profession.
Professor Charles R. Lawrence III is a leading Hawai'i scholar in the areas of civil rights and racial justice who has spent his legal career teaching and writing about America's historic racial oppression and how it has impacted social change.
Some of his best-known research has involved antidiscrimination law, equal protection, and critical race theory. The latter is an accepted concept recognizing that racism is deeply enshrined in American society, with power structures based on white privilege marginalizing people of color.
Back in 1966, driving a beat-up Plymouth, Prof. Lawrence joined other young activists working for civil rights in the South. That same year he entered Yale Law School, graduating three years later with his JD. Last year he received an honorary Doctorate in law from Georgetown University where he spent many years teaching as a tenured professor.
Prof. Lawrence continues to write and speak about the continuing struggles facing America and in a stunning Commencement address to the 2017 graduating class at Georgetown Law, he urged the new young legal minds to take up the work of the early abolitionists and work for a more just, fair and equal nation.
"The legacy of slavery lives with us today," he told the graduates. "It is your turn to join this abolitionist struggle …. The very values that give meaning to our democracy are at stake."Prof. Lawrence earned his BA from Haverford College in 1965, beginning his teaching career at the University of San Francisco in 1974. He has been a tenured professor at Stanford, as well as Georgetown, and joined the William S. Richardson School of Law in 2008.
Professor Nicholas A. Mirkay is a relatively new member of the Richardson Law School faculty, bringing a wealth of expertise in tax law and governance issues as well as a detailed research agenda that includes a dissection of the new federal tax law – the Tax Reform Act of 2017 - and its implications. Those implications include the new law's contributions to the growing wealth disparity in this country.
"The Gini index, which measures the difference between actual income distribution and perfectly equitable distribution, indicates that the U.S. is a far more unequal society than most other advanced, developed countries," writes Mirkay, describing a major research paper underway. "This article focuses on the increasing wealth disparity, particularly the opportunity to create wealth, and the impact that the federal and state tax systems contribute to that growing disparity and declining opportunity."
Additional areas of Prof. Mirkay's ongoing research include: state to state distribution of corporate taxes; disruptive leadership and its impact on staid institutions; access to end-of-life planning for the underserved; and an exploration of the viability of a punitive property tax system for Hawai'i's foreign owners. 
Prof. Mirkay joined the William S. Richardson School of Law in 2017 after five years in law school administration, both as a faculty leader and an associate dean at Creighton University School of Law in Omaha, Nebraska. His background also includes 11 years as a tax and business attorney concentrating on federal, state, and local taxation of business entities, including tax-exempt nonprofits and healthcare organizations.
He earned his JD at the University of Missouri-Columbia and his LLM with distinction at Georgetown University Law Center. He graduated with a BBA, magna cum laude, from Saint Louis University.